FILM HOME PAGE
Films between 1919 & 1939
Films between 1940 & 1949
Films between 1950 & 1959
Films between 1960 & 1969
Films between 1970 & 1979
Films between 1980 & 1984
Films between 1985 & 1989
Films in 1990
Films in 1991
Films in 1992
Films in 1993
Films in 1994
Films in 1995
Films in 1996
Films in 1997
Films in 1998
Films in 1999
Films in 2000
Films in 2001
IMPORTANT & NOTEWORTHY FILMS
FEATURING ASIAN PACIFIC AMERICANS

Films in 2001 (Part 5)
Click HERE for Part 1, HERE for Part 2 and HERE for Part 3


(2001)
Director/Writer: Tran Anh Hung
Producer: Christophe Rossignon
Director of Photography: Mark Lee Ping-Bin
Studio: Sony Pictures Classic
Cast: Tran Nu Yen, Nguyen Nhu Quynh, Le Khanh, Ngo Quanq Hai, Tran Manh Cuong, Chu Ngoc Hung, Le Tuan Anh, Le Van Loc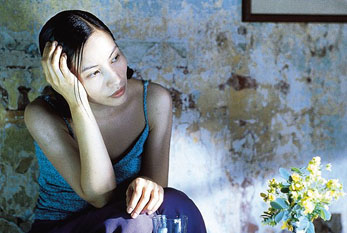 The Vertical Ray of the Sun is the story of three sisters who live close to each other in present-day Hanoi .
Lien (TRAN Nu Yen Khe), the youngest sister, shares an apartment with her younger brother Hai (NGO Quang Hai) and works as a waitress in the café run by their oldest sister Suong (NGUYEN Nhu Quynh).
Suong is married to Quoc (CHU Hung), a photographer, with whom she has a small boy nicknamed Little Mouse. The middle sister, Khan (LE Khanh) is married to Kien (TRAN Manh Cuong), a writer about to finish his first novel.
The film unfolds during the course of one month. It starts on the anniversary of the mother's death and ends on the day of the anniversary of the father's death. On the anniversary of their mother's death, the sisters meet at Suong's café to pray, prepare the memorial meal and greet their relatives.
Throughout the day, they are seen to have an intense and playful complicity, sharing laughter and seeking one another's advice on every subject, even the most intimate.
Yet, each one of them has a secret.
At the end of the day, while reminiscing about their mother, the sisters bring up the subject of a mysterious man -- nicknamed Mother's Toan -- who seems to have been part of their mother's past. It has cast a shadow on the idealized image they have of their parents as an indestructible couple, while affecting each one of them in their own relationships.
FILM REVIEWS:

(2001)
Director: Tim Burton
Novel: Pierre Boulle
Screenplay: William Broyles, Jr., Lawrence Konner, Mark Rosenthal
Executive Producer: Ralph Winter
Producer: Richard Zanuck
Studio: 20th Century Fox
Cast: Mark Wahlberg, Tim Roth, Helena Bonham Carter, Michael Clarke Duncan, Kris Kristofferson, Cary-Hiroyuki Tagawa, Freda Foh Shen, Charlton Heston
SYNOPSIS: The film (as per its website) depicts an upside-down world - a brutal, primal place where apes are in charge and humans scavenge for subsistence, hunted and enslaved by the tyrannical primates. The sudden appearance of one man, alien to the present order and unaffected by its oppression, serves as a challenge to the status quo and a catalyst for revolutionary social change.

(2001)
Director: Krutin Patel
Executive Producers: Madhur Jaffrey
Producers: Naju Patel, Krutin Patel, Tejal & Brian Wray
Co-Producers: Glenn Fisher & Parag R. Amiadi
Screenwriters: Krutin Patel & James McManus
Film Website
Cast: Madhur Jaffrey, Faran Tahir, Sheetal Sheth, Aasif Mandvi, David Ari, Jennifer Dorr White, Adriane Forlana Erdos, Rex Young, Gil Grail, Bob Bonnet, Ismail Bashey, Susham Bedi and, Ami Shukla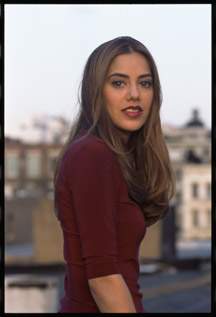 SYNOPSIS: "ABCD" is an acronym for American-Born Confused Dashi (Indian), but there's nothing confused about this assured and fully realized first film by Krutin Patel, who was born in India in 1966 and emigrated to the U.S. with his parents at age 8.
'ABCD' is the story of Raj and Nina, first generation Asian Indian immigrant children who have grown up in America, and their elderly mother, Anju, who is desperately trying in her old age to reconcile her long ago decision to come to America. 'ABCD' revolves around characters who are culturally lost, since they can no longer fully adhere to the customs of the country they have left behind, yet they know they cannot belong to mainstream American culture.
FILM ACCLAIM: ABCD won two WorldFest-Houston 2000 awards, including the Gold Award for the best low budget independent feature film and the Gold Special Jury Award for excellence in filmmaking.

At the Austin Film Festival, Harry Knowles of Aint-It-Cool-News.com selected ABCD as the best film of the Austin Film Festival and honored ABCD with the "Harry Knowles' Pick (Best) of the Festival" award. ABCD received five major nominations at The Method Fest,, including Best Film, Best Director (Krutin Patel), Best Screenplay (Krutin Patel and James McManus), Best Actor (Faran Tahir) and Best Supporting Actress (Madhur Jaffrey).

ABCD had its world premiere at the 43rd London Film Festival. The festival's best films are selected for a regional tour of England immediately following the festival. ABCD was one of those films alongside Boys Don't Cry, Being John Malkovich, The Cider House Rules, Happy Texas and The Virgin Suicides. Cary Swahney of the London Film Festival described the film as "shockingly accurate and charming".

FILM REVIEWS:

LA Times
(2001)
Director: Krutin Patel
Director: Laurice Guillen
Producer: Steve Grenyo, Tony Gloria, and Vincent R. Nebrida
Writer: Vincent R. Nebrida
Cinematographer: Lee Meily
Film Website
Cast: Paolo Montalban, Dina Bonnevie, Ricky Davao, Cherry Pie Pichache, Randy Becker, and Christopher De Leon



SYNOPSIS: Sex is the appetizer. Love is the main course. Friendship is the desert!

A heartwarming comedy about five Filipino American friends in New York City who share laughs, secrets, recipes, and lovers. Each friend is extremely different from the other: one is a news editor, another is a vainly beautiful socialite, a third is a handsome but charming young man who seems to attract gorgeous non-Filipino women, then there's the closeted homosexual, and finally, the single female accountant in her mid 40's who is looking for love in all the wrong places.

Directed by Laurice Guillen, Phillipine Cinema's most critically and commercially successful director, AMERICAN ADOBO is a tasty cinematic portrait of life among this circle of friends, and the trials that evolve over the course of a year. Despite their ups and downs, they all share a love for adobo, and the healing spirit of friendship.


(2001)
Director: Krutin Patel
Director: Laurice Guillen
Producer: Steve Grenyo, Tony Gloria, and Vincent R. Nebrida
Writer: Vincent R. Nebrida
Cinematographer: Lee Meily
Film Website
Cast: Paolo Montalban, Dina Bonnevie, Ricky Davao, Cherry Pie Pichache, Randy Becker, and Christopher De Leon



American Desi' is a fun-loving romantic comedy reminiscent of the great teen films of the eighties like "16 Candles" and "Pretty in Pink," mixed with the fresh hip-hop style of "House Party" with a uniquely Indian flavor.

From Kris, an All-American boy from India, to Ajay, an Afro-Centric Hindu homeboy, to Farah, a devoutly religious but modern Muslim girl, 'American Desi' tells the story of a unique set of characters and their culture from a decidedly hip and youthful point of view.

Like the masala films of India, 'American Desi' is so full of music and dancing that it might very well do to Bhangra and Garba what "Saturday Night Fever" did to Disco!


(2001)
Director: Krutin Patel
Director: Laurice Guillen
Producer: Steve Grenyo, Tony Gloria, and Vincent R. Nebrida
Writer: Vincent R. Nebrida
Cinematographer: Lee Meily
Film Website
Cast: Dante Basco, Eddie Garcia, Tirso Cruz III, Gina Alajar, Darion Basco, Dion Basco, Derek Basco, Bernadette Balagas, Joy Bisco, Fe de los Reyes, Jayson Schaal, Brandon Martin, and Conrad Cimarra



Gene Cajayon's "The Debut" takes us into the world of Filipino Americans to tell a universal coming-of-age story as illuminating as it is entertaining.

Dante Basco stars as Ben Mercado, who lives with his parents and sister in a working-class neighborhood. Ben is an aspiring artist of promise who hangs out with his school pals Doug (Jayson Schaal) and Rick (Brandon Martin) and has turned his back on the Filipino American community. He is at odds with his father Roland (Tirso Cruz III), an immigrant postman who has struggled to help Ben enter UCLA on a premed scholarship. But Ben has just tapped his life savings to attend Cal Arts and is about to tell his father what he's done.

While the Mercado family is concentrated on the 18th-birthday party of daughter Rose (Bernadette Balagtas). Doug, Rick and Ben have another party lined up on the same night, but Ben knows he must put in an appearance at his sister's party.

There is commentary at the evident social pretensions at the event, but they also celebrate the spirit of the occasion. The event becomes a showcase for traditional Filipino song and dance, and later when a DJ takes over for the kids, it becomes a dazzling cornucopia of music embracing pop, hip-hop, R&B and alternative rock.

Ben is confronted with the need to work out his sense of identity and family. He romances his sister's best friend Annabelle (Joy Bisco).

The film shares eternal father-and-son conflicts intensified by the immigrant experience that often opens a cultural chasm between generations - common with many immigrant communities.





site design by Asian American Artistry
for any questions regarding the content, please contact Asian American Artistry
Copyright © 1996-2003 - Asian American Artistry - All Rights Reserved